Welcome to PTM

Committed to Excellence in Tennis Services
From Novice to High Performance Players
Welcome to Professional Tennis Management, PTM, Services, a tennis managment company that promotes, oversees, and conducts tennis instruction, programs and events throughout the East Valley and the Greater Phoenix Area:
Tennis Instructionlal Programs - Private & Group

Instruction from Novice-High Performance
Adult Programs - Beginner-Advanced and High Perfromance

Junior Programs - Munchkins (4-6yrs.to High Performance Juniors up to 18 years of age)

Stroke and Drill and Match Play Drill Clinics

Coaches Clinics and Workshops and Professional Tennis Registry Certification Workshops

FREE Schools Programs for Elementary through High School

High Performance Doubles, Senior Doubles, & Mental Toughness Training Clinics

USTA Sanctioned and Non-Sanctioned Junior and Adult Tournaments




Leagues, Ladders, Corporate Outings, Socials and Benefits and other Tennis Related Events




Specialty Clinics Featuring World Renown Master Professionals


Val Vista Lakes Spring Tennis Classic Cancer and Muscular Dystrophy Benefit Prize Money Event 2015
Mark your Calendars for April 22-26, 2015

Photo Album Gallery Place Holder - Please wait while the Photo Album loads. If the album does not show, please refresh the page to try again.
Val Vista Lakes Spring
Open & NTRP
Spring Tennis Classic
ID # 759310715

Cancer Awareness &
Muscular Dystrophy Fundraiser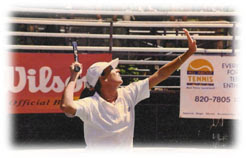 Val Vista Lakes Tennis Center, one of metro Phoenix's premier homeowner tennis establishments, is pleased to announce their annual Val Vista Lakes Spring Open & NTRP Classic, the center's annual benefit event for cancer awareness and muscular dystrophy, April 22-26.
A full 100 % of the net proceeds of the event go to the American Cancer Society and the Muscular Dystrophy Association, so play and make a difference!
There is prize money for this year's event to entice players to play, sponsored by local player Michael McMullen (thanks Michael for your generosity!!!).
The payout will be a part of all divisions open and NTRP, with a bonus prize money for Men's Open Singles - based on draw size (minimum of eight in a division for a prize money payout; 6-7 entries per division, players will at least get their entry fee back).
Click the event's
TennisLink registration page
to find out more info about the prize money payout.
Event location:
Val Vista Lakes Tennis Club
1600 East Lakeside Drive
Gilbert, Ariz. 85324


Divisions of Play Offered
Men's/Women's Open Singles/Doubles & Mixed Doubles ($)

Men's and women's singles and doubles NTRP; 3.0 - 5.0 divisions
NTRP Mixed Open doubles: 3.0 - 5.0 divisions.
Entry Fee: $43.50 for singles per player; $33 per player for doubles

Entry Deadline: Sunday, April 19th.

For more information, contact Tournament Director Michael Lowdermilk at 480-628-0851 or tennislessonsaz@gmail.com

Janet Lee striking a backhand in a

USTA Women's $50,000 Challenger hosted by PTM